Facilities
With a wave pool, diving tower, thermal pool, whirlpool, slides and café-area in southern temperatures, we have everything our bathing guests can dream of.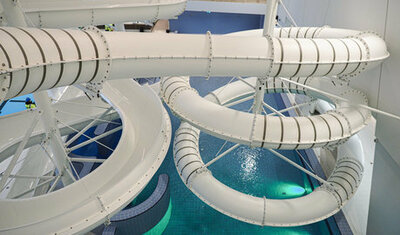 Slides
There is two water slides, a fast one of 65 meters, and a family-friendly one of 70 meters. The fast one is one of the fastest slides in Norway, suitable for anyone who enjoys speed and excitement. Both slides have timers, so you can keep track of time and compete against friends and family! The water slides are open throughout the opening hours on weekends and public holidays, and from 10 am on weekdays.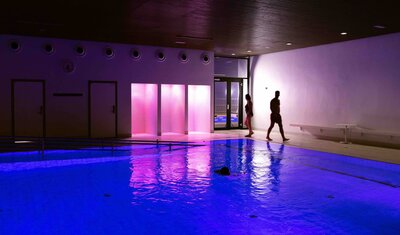 Therapy pool
The therapy bath maintains 33-34 degrees and is 0.9-1.6 meters deep. This pool is great for families with children and the elderly. The therapy bath is good for relaxation and rehabilitation. There is also a counterflow at the deepend side of the pool.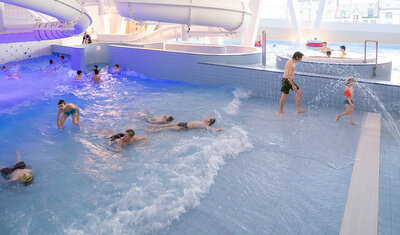 Wavepool
Every hour the waves hit the pool edge and we invite to fun in the waves! The wave pool has a descending depth of 0-1.8 meters and the water maintains a comfortable temperature. In the shallow part of the wave pool, there are various fountains for the children to play in. At the very end, there is a small climbing wall and a counter-current pool. When the is no waves, the pool can be used for free play and fun. The waves run every full hour from 14pm on weekdays and every hour all opening on weekends.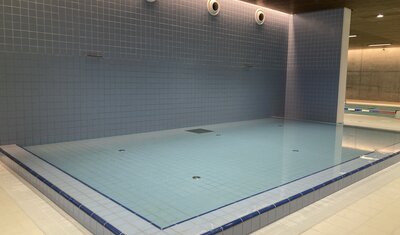 Childrens pool
For our youngest guests, we have a separate pool with a suitable depth (0.3 meters deep), and which always has the perfect bathing temperature for small bathers. The pool is equipped with fountains and a small slide that the smallest children can play with without interruptions.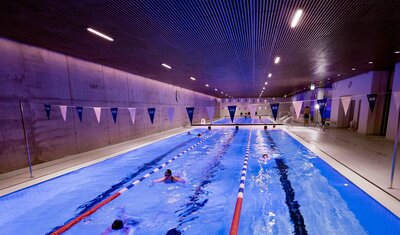 Swimmingpool
The swimming pool is suited for those who want to exercise. The pool has 3 lanes and is 50m long, but is divided in the middle so that there are 3 25 meter courses on both sides of the middle divider. 50m is open as a long course every Wednesday. The swimming pool maintains a temperature of about 27.5 degrees. Some evenings activities are organized in one half.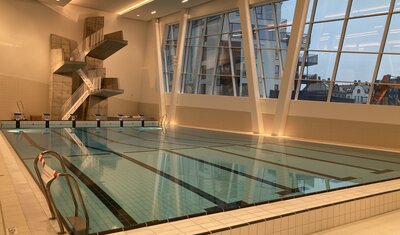 Activity pool
We have a large pool for play and fun for young and old. The depth of the shallower part is 1.5 meters, while it is 4.1 meters at the deepest. One part is used for diving and jumping from the diving tower, while the rest of the activity pool is reserved for play and fun. Here you can find various activities such as trampolines, running tracks and a large squid you can manage.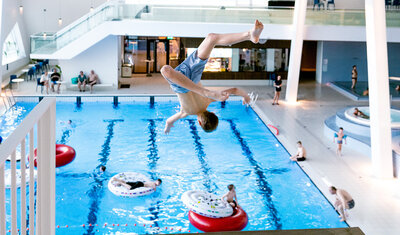 Diving tower
From our fantastic diving tower you can dive or jump from 3 meters, 5 meters and 7 meters. We also have a diving board standing at 1 meter tall. Jump from it!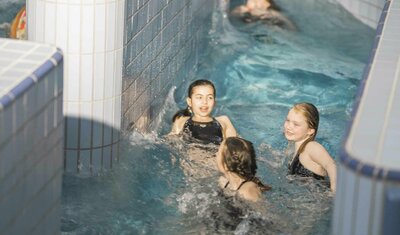 Whirlpool
Beside the wave pool you will find a flowing channel - let yourself float along in the whirlpool!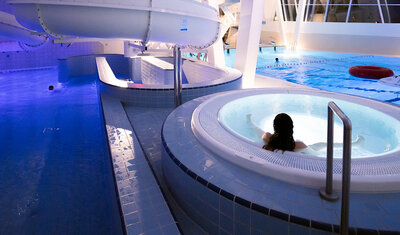 Hot tub
Take a break from swimming and enjoy the warm water in our hottubs. The tubs maintains a temperature of approximately 36 degrees. The warm water helps your body relax, reduces stress and helps to loosen sore and stiff muscles.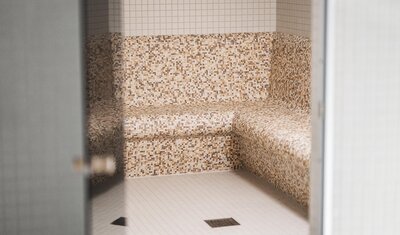 Sauna
We have two saunas out in the facility, one dry and one steam sauna. The dry sauna reaches approximately 80-90 degrees. While the steam sauna holds about 40 degrees. Sauna is good for body and soul, and is a wonderful break from a hectic life.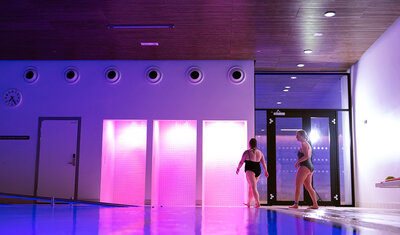 Spa showers
We have three spa-showers with different programs, like cold and tropical showers, located inside the thermal pool. Try them out and find your favorite!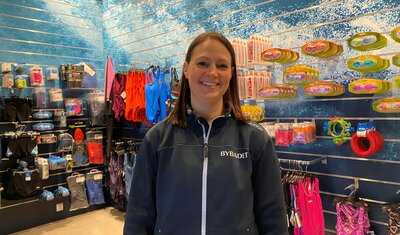 Swim-shop
Our swim-shop offers a range of bathing and swiming clothes, as well as equipment and toys. Here you can get everything you need for a day at the pool.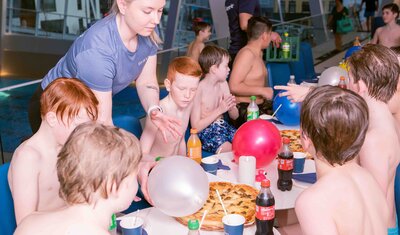 Café
Our café is open during opening hours. We offer hot meals, snacks, mineral waters and ice cream. We also arrange birthdays parties and group-seatings in our café, send email to reserve.